Sustainability is a key issue in the construction industry. Companies and private individuals engaged in building or renovating both have a major role in ensuring it.
REVCO has always tried to keep environmental awareness in mind.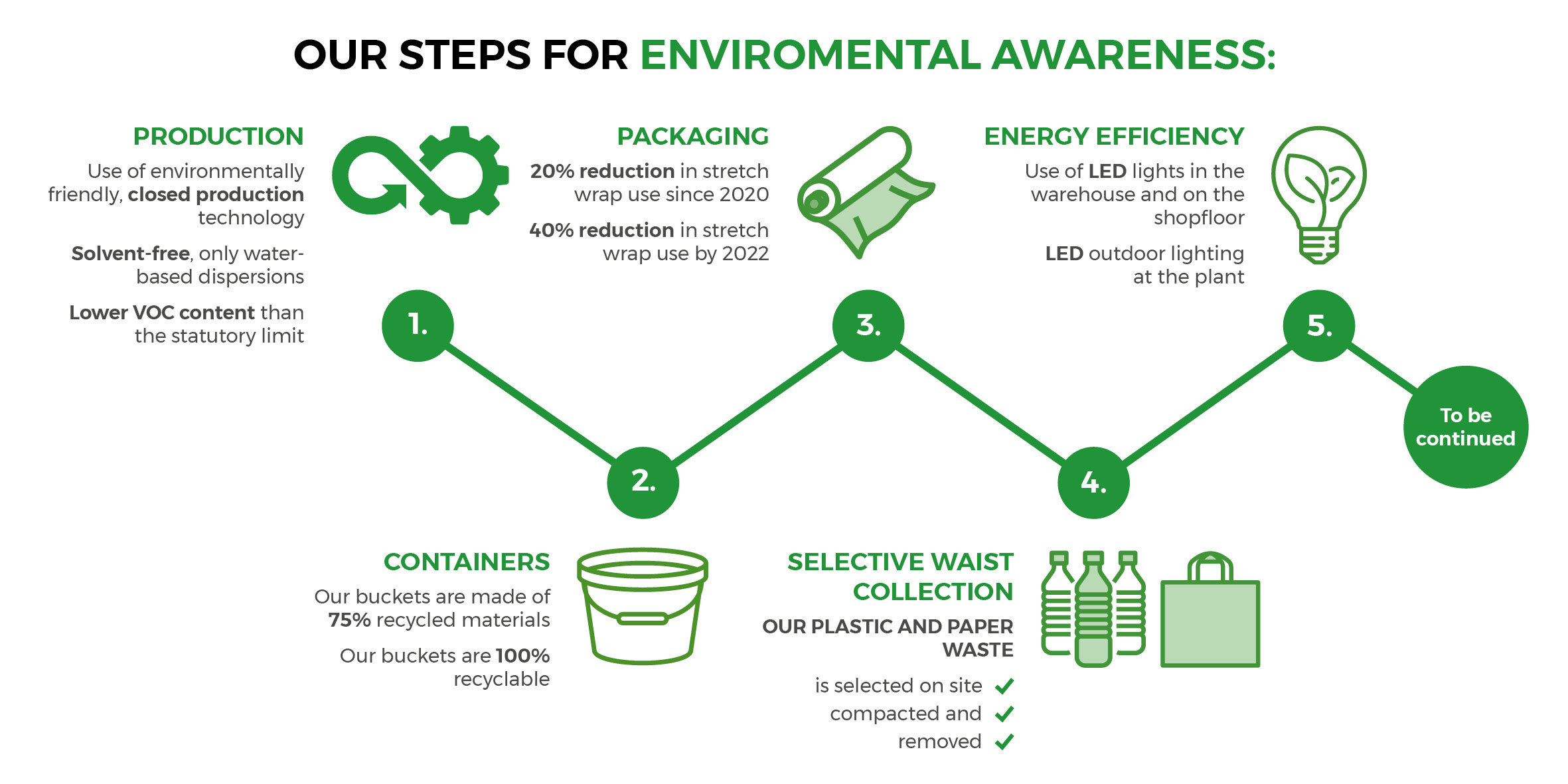 PRODUCTION
We have specialised in the production of solvent-free, only water-based dispersions, and thanks to its closed production technology the plant of REVCO could be set up in the Leshegy Industrial Park in Szigetszentmiklós, surrounded by the most important drinking water wells of Budapest.

CONTAINERS
Our company plays a key role in the production and sale of plaster in buckets on the Hungarian market; as a result, tens of thousands of buckets of plaster are shipped from our plant each year. Production growth has spurred us to re-think our long-term strategy in connection with our packagings, as well, in order to find a more environmentally friendly solution for our buckets used in the largest quantities. We now proudly announce that starting from the second half of 2020, our REVCO products will be packaged in buckets made from 75% recycled materials. The origin, reliability, purity, and quality of this recycled plastic is guaranteed by one of the largest European bucket manufacturers. In addition to environmental awareness, the change comes with an added advantage: the grey buckets, which contain recycled materials, are thicker and more durable than white ones and are 100% recyclable. Thanks to the design of their interior, the contents of both our grey and white buckets are fully accessible, their lids can be resealed, and after emptying and cleaning them they can be re-used for a long time for a different function.

PACKAGING
At the start of 2020 we replaced one of our pallet wrapping machines with a brand-new and modern unit, thanks to which we have reduced our stretch wrap use by 20%.
In spring 2022 we replaced another pallet wrapping machine, brought the reduction in our stretch wrap use to 40%.

SELECTIVE WASTE COLLECTION
Paper and plastic waste generated during production is selected on the site, compacted and removed by a local waste management company. We have also signed an agreement with a plastic recycling plant about the re-use of our clean plastic buckets with a quality defect.

ENERGY EFFICIENCY
In recent years, we have modernised the lighting of our warehouse and shopfloor, replacing fluorescent lights with LED tubes and switching from halogen outdoor lighting to LED lighting at the plant. We hope that our efforts to this end will also encourage other market players and many more manufacturers will follow our example.