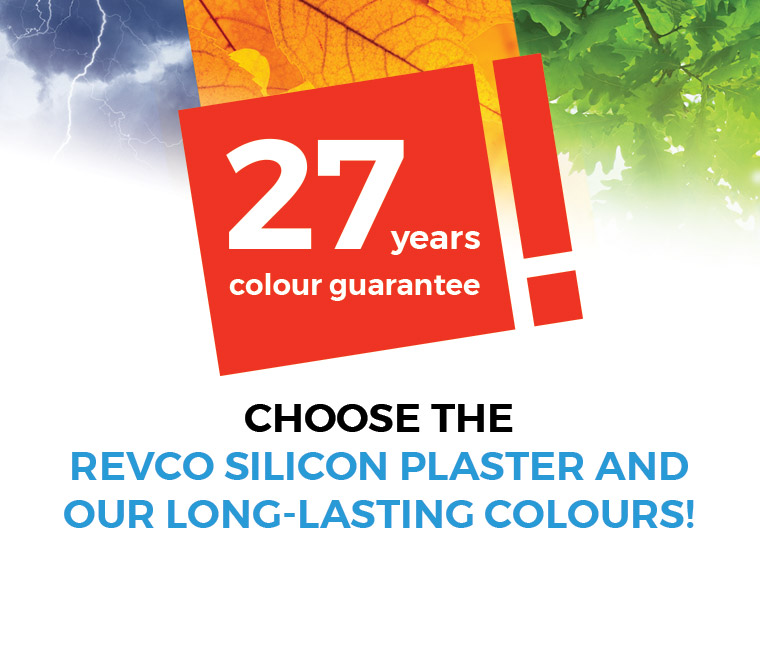 Well beyond the legal obligations regarding warranty, REVCO Hungary Ltd undertakes a 27 YEARS LONG COLOUR GUARANTEE for the REVCO SILICON thin plasters starting from 1 April 2013 thanks to the product development efforts and the improvement of the building chemistry.
How different is the REVCO SILICON thin plaster in comparison with thin plaster having other binders?
It has excellent vapour permeability (particularly beneficial in case of breathing stratification).
It has a so called self cleaning nature thanks to its highly hydrophobic (water repellent) properties (micro pollutions are less likely combined chemically in the surface).
Its colouring is made exclusively by UV resistant pigments (colour stability).
It has high quantity of binder material.
Thanks to the exceptional good properties of the silicon binder, and the exclusive use of excellent pigments, the REVCO Hungary Ltd undertakes outstandingly long 27 years colour guarantee for the REVCO SILICON 1.5 mm, REVCO SILICON 2.5 mm and REVCO SILICON 2.0 mm thin plasters.
Conditions for the guarantee:
It is valid exclusively for the colours available from the RECO VARIO colour chart and from Silicon colour shades, and for SILICON plasters coloured in compliance with the specifications and factory technology of REVCO Hungary Ltd.
The conditions of guarantee include the use of adhesive paste obtained from factory packaged bags distributed by REVCO, and the use of Primer plaster primer containing pigment identical to that of top coat plaster. (The use of REVCO adhesive paste is necessary only in case of thermal insulation systems.)
At least one original bucket of primer and bucket of plaster and one bag of the adhesive paste shall be kept (so that the manufacturing date could be checked).
Copy of bills regarding the materials and the implementation.
Dear Customers,
You may request the factory guarantee letter for the REVCO SILICON you purchased by filling the form. Request the factory guarantee letter